Bank MICR Toner
Make your Laser Printer a Check Printer
Turn your own Laser Printer into a MICR Check Printer and you can print your own checks at half the price. All you need are the following:
1) Purchase a Bank MICR Toner Cartridge for your model of Laser Printer. The most popular brand of printer to use for check printing is a HP LaserJet Printer model. Don't try to use an inkjet printer, as the bank micr ink cartridges are not available. We recommend using HP LaserJet models, such as HP LaserJet Pro M404 MICR Toner, HP M402n MICR Toner, or See our Most Popular MICR Toners for HP Printers. The bank printer toner is readily available and very popular for these HP MICR Toner models.
2) Download free check software, or you could purchase software online.
3) Have MICR fonts installed on your computer. Most check software should include a MICR font for check printing.
4) Purchase blank check stock, blank check paper.
That is all you need. Print your checks on demand and keep them secure by not having them pre-printed at a print shop with your private banking information. You will also save a bundle on the costs over time. Learn more about MICR here.
---
Do you need assistance in finding your printer cartridge? No worries... Follow these easy steps: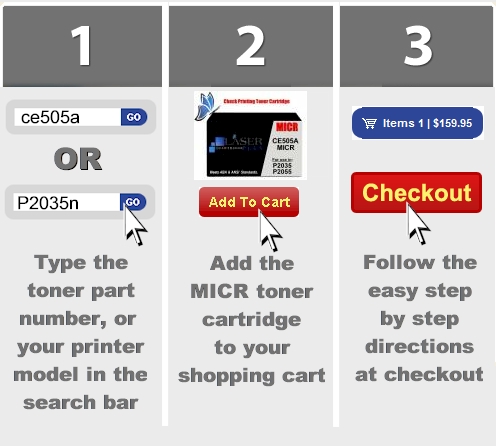 ---