Save up to $10 on your Next Purchase! Use the Coupon Code Below during Checkout.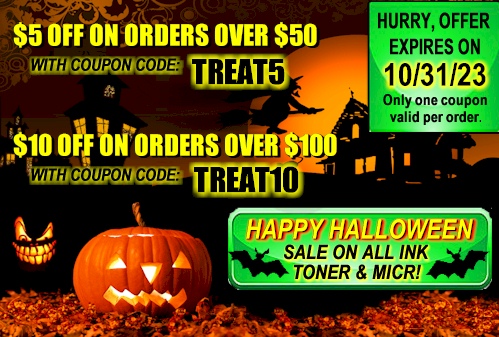 Search for your cartridge number or printer model
in the search box, or browse by category or brand.
Popular MICR, Toner Cartridges & Check Paper

Shop by HP Toner & HP MICR Toner Part Number here.

Shop by HP LaserJet Printer Model here.

Shop the Most Popular MICR Toner Cartridges here.

Shop for Blank Check Paper here.
Laser Cartridge Plus Best Sellers
Shop by Category for Printer Cartridges
Buy your Printer Toner, MICR Toner & Check Paper here for many good reasons:
Orders ship within 24 business hours (Most orders ship the same day if you order by 3pm Central Time). View our Shipping Policies.


Tracking information provided to you via email.

You can check the status of your order and track it with ease right on our website.

Free Shipping on orders over $75.00! (Check paper does not qualify for Free Shipping.)

You can speak with customer service Monday through Friday (8am until 4pm) at 1-800-260-9809 - or you can email us through our contact us page.

Thousands of quality cartridges in stock.

Safe and Secure Shopping Guaranteed.

30 Day Money Back Guarantee and a 1-year exchange policy on all ink, MICR Toner, and other toner cartridges.

Excellent Customer Service with over 30 years experience in the printing industry.

We love to help! We can help you with questions about printer cartridges and laser toner cartridges.
Buy Printer Cartridges, Laser Cartridge, Laser Toner Cartridges and Printer Toner and get twice the toner at half the price! Our Laser Printer Cartridges come with fast free shipping. Laser Cartridge Plus presents a convenient way to purchase quality compatible laser toner cartridge supplies and laser toner refill cartridges at an average of 50% off retail pricing.
We offer a large variety of printer ink cartridges and laser printer cartridges, compatible printer cartridges and MICR toner for laser printers, copiers and fax machines. Our compatible toner cartridges cover many popular brands and we keep a large stock available to provide fast shipping! We have genuine HP Toner available. We also have compatible printer toner printer ink supplies for brands such as HP, Brother, Lexmark, Dell, Canon, Samsung, MICR and other popular brands and they are available for immediate delivery. We offer fast free shipping on all cartridge orders over $75.
Have you ever purchased laser printer cartridge supplies or printer ink cartridges that have been remanufactured or refilled? If so, were you satisfied with the product quality you received? If you answered no to either of the above questions, then you should read our about us page.