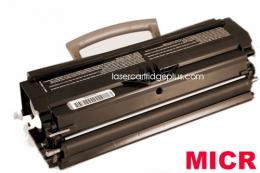 Click thumbnails to view larger.
Lexmark E232 E238 E240 E330 E340 MICR Toner - 12A8305 MICR, 34035HA MICR, 12A8405 MICR - This Lexmark E232 MICR toner is compatible with of 24015sa, 24035sa, 12a8400, and 12A8300 MICR. This Lexmark E330 MICR toner is a compatible E238 MICR toner cartridge.
Print Color: Black MICR for check printing.
Compatible with part numbers: MICR-TLN-342, 12A8300, 12A8305, 12A8400, 12A8405, 24015SA, 24035SA, 34015SA, 34035SA, 34035HA MICR toners.
Page Yield: 6,000 pages.
For use in Lexmark E230, E232, E232t, E234, E238, E240, E242, E330, E332, E332n, E332tn, E340, E342 printers. Also for use in Lexmark X340, X342 MFP, IBM 1412, 1512 printers.

This is a compatible cartridge, not a brand name cartridge. Any use of a brand name or model is made solely for purposes of demonstrating compatibility.
LCP Lexmark E232 E238 E240 E330 E340 MICR Toner, 34035HA MICR