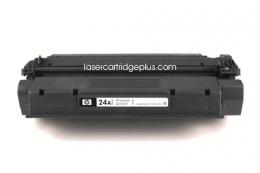 Click thumbnails to view larger.
HP LaserJet 1150 Toner Q2624X - Compatible with HP LaserJet 1150, HP 24X (Q2624X) Remanufactured.
4,000 Yield, High Capacity Black Toner Cartridge.
The HP 1150 toner features an innovative cartridge design that supports fast, reliable printing. Innovative toner formulation for crisp, sharp output every time. This HP 1150 cartridge is designed to handle business printing demands and deliver great results. Easy to use and maintain with new print cartridge architecture. HP printing solution for cost-effective use.

This is a Laser Cartridge Plus brand (LCP recycled) cartridge, not a HP brand name cartridge. Any use of a brand name or model is made solely for purposes of demonstrating compatibility.
HP LaserJet 1150 Toner Q2624X - LCP (recycled)