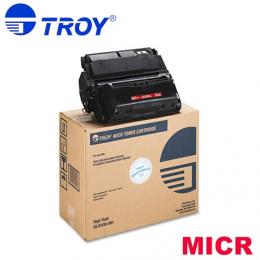 Click thumbnails to view larger.
Troy 4250 / 02-81136-001 / Troy 4350 MICR (Q5942X) - Genuine New - Print your own checks with this Genuine New Troy 4250 MICR Toner. This Troy 4350 MICR Toner helps prevent against fraud protection with Secure MICR Toner.


Compatible with MICR Cartridges:
02-81136-001
02-81135-001
02-81135-500
02-81136-500
(Coordinating Non-MICR HP Part Number: HP Q5942X)
Q5942X-MICR
Q5942A-MICR
THN-42X
THN-42A


Yield:
20,000 pages based on 5% coverage


Compatible Printers:
TROY MICR 4250 Printers
TROY MICR 4350 Printers
HP LaserJet 4250 Printers
HP LaserJet 4350 Printers


Full List:
For use in HP LaserJet 4240, 4250, 4250dtn, 4250dtns, 4250n, 4250tn, 4350dtn, 4350dtnsl, 4350, 4350n, 4350tn, Troy 4250, 4350 MICR printers.


What is MICR Toner Secure?
TROY's patented anti-fraud technology forces a bright red stain to appear if chemical alteration of a document is attempted. Any solvent that will remove toner immediately releases the security agent when it comes into contact with the toner.
This is a Brand New (Namebrand) Genuine Troy MICR Toner. All trademarks related to Troy belong to Troy and not Laser Cartridge Plus.

All Troy MICR Toners have a level of quality to meet or exceed the highest printing standards. Produced within TROY's ISO 9001:2008 certified facility, these MICR toner cartridges are precision-matched to meet the print characteristics of each printer model.
Troy 4250 | 02-81136-001 | Troy 4350 MICR (Q5942X) - Genuine New