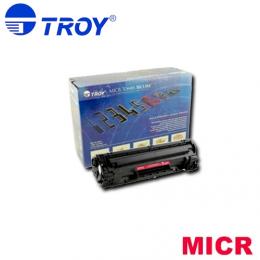 Click thumbnails to view larger.
Troy 1606 / 02-82000-001 / Troy P1606 MICR (CE278A) - Genuine New - Print your own checks with this Genuine New Troy MICR 1606 MICR Toner. This Troy P1606 MICR Toner helps prevent against fraud protection with Secure MICR Toner.


Compatible with MICR Cartridges:
02-82000-001
(Coordinating Non-MICR HP Part Number: HP CE278A)
CE278A-MICR
THN-78A
THN-78X
MICR-THN-78A
MICRTHN78A
MICR-THN-78X
MICRTHN78X
78A MICR


Yield:
2,100 pages based on 5% coverage


Compatible Printers:
TROY MICR 1606 Printers
TROY MICR P1606 Printers
HP LaserJet Pro P1566
HP LaserJet Pro P1566n
HP LaserJet Pro P1566dn
HP LaserJet Pro 1566
HP LaserJet Pro 1566dn
HP LaserJet Pro P1606
HP LaserJet Pro P1606n
HP LaserJet Pro P1606dn
HP LaserJet Pro 1606
HP LaserJet Pro 1606dn
HP LaserJet Pro M1536dnf
Any other HP LaserJet Pro P1606 series printer
Any other HP LaserJet Pro P1566 series printer


Full List:
For use in Troy 1606, Troy MICR 1606 Printer Series, HP LaserJet Pro P1566, P1566n, P1566dn, 1566, 1566dn, P1606, P1606n, P1606dn, 1606, 1606dn, M1536dnf printers.


What is MICR Toner Secure?
TROY's patented anti-fraud technology forces a bright red stain to appear if chemical alteration of a document is attempted. Any solvent that will remove toner immediately releases the security agent when it comes into contact with the toner.
This is a Brand New (Namebrand) Genuine Troy MICR Toner. All trademarks related to Troy belong to Troy and not Laser Cartridge Plus.

All Troy MICR Toners have a level of quality to meet or exceed the highest printing standards. Produced within TROY's ISO 9001:2008 certified facility, these MICR toner cartridges are precision-matched to meet the print characteristics of each printer model.
Troy 1606 | 02-82000-001 | Troy P1606 MICR (CE278A) - Genuine New