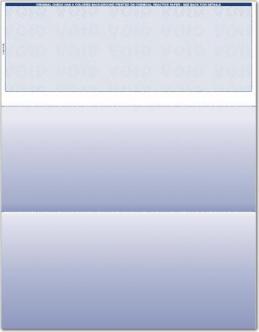 Click a color below to view larger image:

Blue - Burgundy - Green - Tan
---
Top Check - Blank Check Stock with two vouchers and check on the top. For use in conjunction with Versacheck (check printing software) and Quickbooks, Quicken, MS Money and many other software packages (full list below).
---
** This is blank check paper. You must have software, such as VersaCheck, that will print the MICR line on the bottom of the check, and your check number. These are not pre-printed checks. We also do not sell VersaCheck validation codes. To purchase VersaCheck validation codes, please visit here.**
---
Most HP (Hewlett Packard) LaserJet printers can be used as a laser check printer. All you need is a MICR cartridge, check paper, and check printing software. You will be able to print check stubs, voucher checks for Quickbooks, Quicken, VersaCheck, and many other check software applications.
This Top Check, blank check stock delivers excellent print value.
To learn more about the great security features offered with this blank check stock, read the detailed security features data sheet.
---
For use with many software applications if combined with VersaCheck software:

Automated Church Sys Top
CA Simply Accounting
CA Simply Money Voucher
Certiflex Dimension 7
CFMS/Advantage
Clear Profit
Compass by Essent Corp.
Made2Manage
Microtel Accountant
MS Money 1/page (Microsoft Money) 1/page
Managing Your Money 1/page
MYOB
Park Pro for Windows
MoneyCounts Multi-Purpose TOP
Promas
Quicken 1/page
QuickBooks 1/page
Real-Comp RPMW-1 1/page
Show-Me Software
Travcom
Unilink 7.55 Check TOP
WinCondo Pro
VersaCheck 1/page
---
Quantity: Sold by the ream in packages of 500 blank checks per package.
Perforations at: 3 1/2" x 3 1/2" x 4"
Available in 4 Solid Colors:
---

View all
Blank Check Stock - Blank Check Paper
---
Need a MICR Toner cartridge to print your checks with? Check out our MICR Toner category.
---
Condition:
New
Top Blank Check Paper for Quickbooks, Quicken, VersaCheck CP515 1 Ream