Sale Items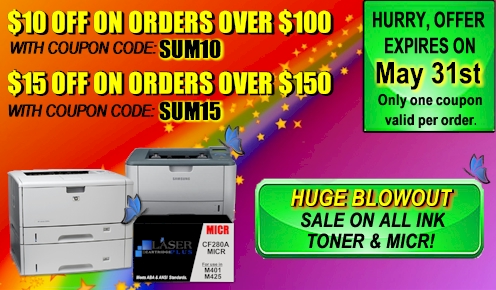 Save $10 on your order of any item on the website, no exclusions!

Laser Cartridge Plus, Inc. has been in business since 1995. We stand behind every purchase you make with us, so you can shop in complete confidence. All products are 100% guaranteed.

We are open from 8am - 4pm Monday through Friday, or shop 24 hours a day on our website. Most orders placed before 3pm ship the same day! We also offer FREE local business delivery.
SPECIAL -- Toner Cartridges on sale at Laser Cartridge Plus. Save on Compatible HP CB435A, CE278A, CE285A, CE505A, CE505X, CF280A, CF280X, Q1339A, Q2612A, Q5942X, Q5949A, Q5949X, Q7553A, Q7553X, CF283A, Compatible Brother Drums DR350, DR360, DR400, DR420, DR500, DR510, DR520, DR620, Compatible Brother Toner TN360, TN450, TN650, TN750, Canon Toner 106, 125, 128, FX9, FX10, Compatible Brother PC102, PC102RF, PC101 Fax Film, Compatible HP Q7570A, Q7571A, Q7572A, Q7573A, Q6460A, Q6461A, Q6462A, Q6463A, C9730A, C9731A, C9732A, C9733A, C3903A, C3906A, Q1338A, CC364A, Q6511A, Q2610A, and Compatible Lexmark E230 / E330 toner cartridges. Hurry and order your toner cartridge today and save big bucks! While supplies last.