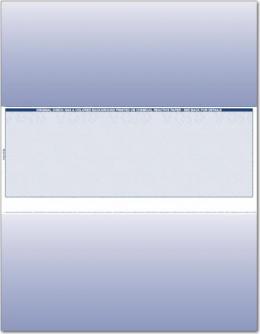 Click a color below to view larger image:

Blue - Burgundy - Green - Tan
Middle Check - Blank Check Stock with two vouchers and check in the middle. For use in conjunction with Versacheck (check printing software) and Peachtree Accounting and many other software packages (full list below).
---
** This is blank check paper. You must have software, such as VersaCheck, that will print the MICR line on the bottom of the check, and your check number. These are not pre-printed checks. We also do not sell VersaCheck validation codes. To purchase VersaCheck validation codes, please visit here.**
---
Most HP (Hewlett Packard) LaserJet printers can be used as a laser check printer. All you need is a MICR cartridge, check paper, and check printing software. You will be able to print check stubs, voucher checks for Peachtree Accounting, VersaCheck, and many other check software applications.
This Middle Check, blank check stock delivers excellent print value.
To learn more about the great security features offered with this blank check stock, read the detailed security features data sheet.
---
For use with many software applications if combined with VersaCheck software:

ACCPAC for Windows A/P
Automated Church Sys Middle
AgChek Accounting V2.0
AME Multi-Purpose
AME Payroll
BusinessWorks Multi-Purpose
BusinessWorks (Peachtree fmt)
Checkbook Solutions
Cougar Mountain Software
Champion 8.1
CheckMark Multi-Ledger 4.0
Contr Account
Creative Solutions
DacEasy A/P
DacEasy Multi-Purpose
Great Plains Acctg Series
Great Plains Dynamics V3
Hedberg
Jenkon Summit 5
Landtech
MAS90
MIP 10 for DOS Multiledger
NEBS One-Write Plus
Peachtree 2000 A/P
Peachtree Complete Acct Ver 8
Peachtree Complete Acct Ver 8
PC Law/PC Law Jr.
Perfect Fit 5.02
Phoenix Phive
MoneyCounts Multi-Purpose MID
Peachtree DOS V8-11 Payroll
Peachtree DOS V8-11 Multi-Purp
Peachtree Win A/P
Peachtree Win Multi-Purpose
Peachtree Win Payroll
QAD Mfg/Pro
Real World Classic 8.0
Rems 500
SBT Pro Series
Shelby Systems
Solomon IV A/P
Solomon IV Payroll
Timberline A/P
Trams
Unilink 7.55 Check MIDDLE
---
Quantity: Sold by the ream in packages of 500 blank checks per package.
Perforations at: 3 1/2" x 3 1/2" x 4"
Available in 4 Solid Colors:
---

View all Blank Check Stock - Blank Check Paper
---
Need a MICR Toner cartridge to print your checks with? Check out our MICR Toner category.
---
Condition:
New
Middle Blank Check Paper for Peachtree Accounting, VersaCheck CP509