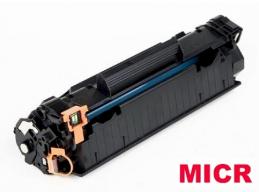 Click thumbnails to view larger.
LCP MICR Cartridge for Troy 1102, 1102W (02-81900-001) CE285A MICR Toner - Troy 1102, Troy 1102W, Troy P1102W, HP LaserJet Pro M1130 M1132 1102w M1212 M1134 M1136 M1216 M1214 M1213 M1138 M1217 M1219 M1139 M1137 M1212f MICR toner cartridge is a compatible HP black 02-81900-001 cartridge used for check printing in your Troy 1102 laser printer.
---
** This is a Compatible Troy Group MICR Cartridge. This is not a brand new Troy toner cartridge. It is a remanufactured MICR toner for check printing made with all new components for guaranteed performance. This is an environmentally friendly Value MICR that is backed by a 100% guarantee. **
---

* Consistently outstanding print quality.
* Reliability saves time and increases productivity.
* All-in-one cartridge is easy to install, maintain.

Brand: Compatible Troy

Compatible with Part Numbers: 02-81900-001, CE285A, CE285X, MICR-THN-85A, MICRTHN85A, MICR-THN-85X, MICRTHN85X, 85A MICR

Type: Compatible Troy MICR Toner Cartridge

Page Yield: 1,600 Page Yield @ 5% Coverage

For use in MICR laser printer and compatible with the following MICR printer models:

Troy 1102
Troy 1102W
Troy P1102W
HP LaserJet Pro M1130
HP LaserJet Pro M1132 MFP
HP LaserJet Pro M1134 MFP
HP LaserJet Pro M1136 MFP
HP LaserJet Pro M1137
HP LaserJet Pro M1138
HP LaserJet Pro M1139
HP LaserJet Pro M1212
HP LaserJet Pro M1212nf
HP LaserJet Pro M1212f
HP LaserJet Pro M1213nf
HP LaserJet Pro M1214nfh
HP LaserJet Pro M1216nfh
HP LaserJet Pro M1217nfw
HP LaserJet Pro M1219nf
HP LaserJet Pro P1102
HP LaserJet Pro P1102w
---

This MICR toner cartridge is not a brand name cartridge from Troy Group. It is manufactured by Laser Cartridge Plus, Inc. (LCP) It is a generic replacement cartridge that is fully compatible with printers from Troy and it comes with a 30-day, no questions asked, money back guarantee!
LCP MICR Cartridge for Troy 1102, 1102W (02-81900-001) CE285A