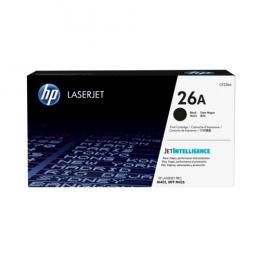 Click thumbnails to view larger.
HP CF226A, HP 26A - HP M402 M402N M402DN M402DNE M426 M426DN is a HP black CF226A cartridge for use in your laser printer.
---
** This cartridge is a new HP CF226A toner cartridge that is factory sealed. It is a brand new genuine HP toner.**
---
HP LaserJet printers are one of the most reliable printers on the market and we highly recommend them.
This HP M402N Toner delivers excellent print value. This HP M402N Toner, M402DN Toner is a HP black toner cartridge.
For use in: HP M402 M402D M402N M402DN M402DW M426 M426DN M426DW M426FDN M426FDW MFP Printers
Full list:
HP LaserJet M402
HP LaserJet M402d
HP LaserJet M402dn
HP LaserJet M402dne
HP LaserJet M402dw
HP LaserJet M402n
HP LaserJet M426
HP LaserJet M426dn MFP
HP LaserJet M426dw MFP
HP LaserJet M426n MFP
HP LaserJet M426fdn MFP
HP LaserJet M426fdw MFP
Compatible with Toner Cartridges: CF226A, CF226X, 26A, 26X.
Page Yield: 3,100 @ 5% coverage.
---
HP Toner
CF226A 26A HP M402 M402N M402DN M426 M426DN Toner, Genuine New