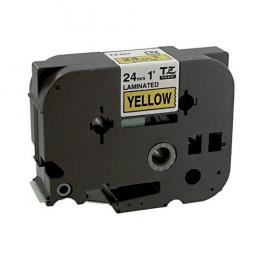 Click thumbnails to view larger.
If you're looking for a wide label tape with a bright, bold look, this Replacement for Brother TZe-651 P-touch Black on Yellow 1" (24mm) tape is a perfect choice. This colorful tape can be used both indoors and outside in hot and cold environments, although it's best suited for smooth, flat surfaces. It also has a crack and peel backing for easy application. The laminated surface is resistant to scrapes and abrasions, water, oil and even chemical spills and UV rays from exposure to sunlight. This Compatible Brother TZe651 labels can even be placed in the microwave or freezer, making them perfect for labeling food at home or work.
Label Size 1" (24mm) wide by 26' (8m) long
Black on Yellow
OEM Equivalent with new & recycled components.
One Year Warranty
Replaces the Following Manufacturer Numbers: TZ651 TZ-651 and TZe-651 TZe651
Compatible with the Following Printer Models: PTD600, PTD800W, PTE500, PTE550W, PTE800W, PTH500LI, PTP700, PTP750W, PTP900W, PTP950W, PT330, PT350, PT520, PT530, PT540, PT550, PT580C, PT1400, PT1500PC, PT1600, PT1650, PT2200, PT2210, PT2300, PT2310, PT2400, PT2410, PT2430PC, PT2500PC, PT2600, PT2610, PT2700, PT2710, PT2730, PT2730VP, PT3600, PT7500, PT7600, PT9200DX, PT9200PC, PT9400, PT9500PC, PT9600, PT9700PC, PT9800PCN.

This is a compatible brand item, not the actual name brand labels. Any use of a brand name or model is made solely for purposes of demonstrating compatibility.
Replacement for Brother TZe-651 - 1" (24mm) Black on Yellow P-Touch Label Tape
TZe-651, TZe651